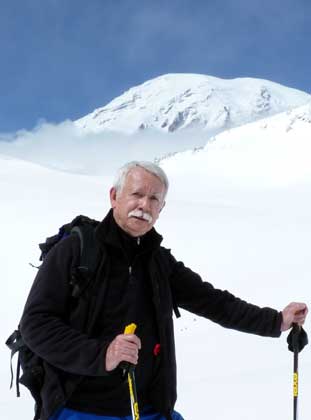 Mount Rainer, south flank
March 2016
Grant M. Skerlec
SEALS International was founded in 1987 by Dr. Grant M. Skerlec. A graduate of Franklin & Marshall College (BS 1968), USMC (1969-1970) and Princeton University (MA 1971,PhD 1979), he has taught at both the University of Pennsylvania (1974) and Oberlin College (1976-1978). Grant joined Exxon Production Research Company in 1978 where he first began work on fault seal analysis. He later joined Esso Norway in Stavanger and Esso Exploration Production UK in Esher developing new techniques in seal analysis and applying these in exploration and production.
SEALS International has specialized exclusively in fault seal and top seal analysis. We developed the first commercially available software for fault seal analysis in 1987. Our focus since 1987 has been documenting fault seal behavior in existing fields. The Fault Seal Atlases of both the Gulf Coast and the North Sea/Norwegian Sea have become prerequisites for exploration in those regions. These contain analyses of hundreds of faults. An even larger global, proprietary database is used as a foundation for our prospect and play assessments.
Recent work includes fault seal behavior in strike-slip basins, fault seal behavior in California oil and gas fields, prospect assessments in the Neuquen Basin, Argentina, the San Joaquin Basin, California, Barents Sea, Gulf of Saint Lawrence and San Jorge Basin, Argentina. An Atlas of Fault Seal Behavior in California Oil & Gas Fields is now in progress. The newest QuickLook software allows both deterministic and stochastic analysis of fault seal as well as automatic prediction of hydrocarbon columns, fault dependent leak points and percent fill.
Our new Risking Top Seal in the Barents Sea study has just been released in time for the 24th Licensing Round. This report breaks new ground in understanding the distribution of hydrocarbon in the Barents. It allows prediction of hydrocarbon columns based upon an empirical displacement pressure of fractured top seals. Uplift of the Barents Sea region has resulted in widespread hydraulic fracturing and consequent dry holes and non-commercial discoveries. This study opens new exploration plays and strategies for finding the remaining commercial discoveries.
Our SEALS software has also been integrated into TERRASCIENCE'S Terrastation log analysis software for rapid, simple quantitative fault seal analysis.
This is a sample