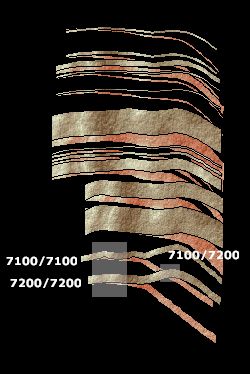 This is the same fault plane profile examined earlier (left). There are high SGR's over the cross leaking juxtapositions 7100/7100 and 7200/7200; there are low SGR's over the cross sealing juxtaposition (7100/7200.
In calculating the SGR, each well has been "rubber-banded" so that the stratigraphy in the well matches the bed cutoffs on the fault plane profile. The SGR is calculated for the actual stratigraphic thickness that has moved along the fault plane, not the thickness in the well.
Simple calculation of SGR using the well directly, without this correction, will give erroneous results.